Description
Edit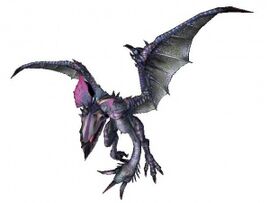 Yian Garuga is a bird wyvern much like Yian Kut-Ku. It is relatively small, though its size is deceiving.
Thick purple scales cover the Yian Garuga, making it easily distinguishable from its smaller relative, the Yian Kut-Ku. Its silver mane, wickedly sharp beak, and barbed tail also differentiate it from Kut-Ku, and make it a far more dangerous opponent.
It has far more control over its fire breathing, allowing it to aim fireballs similar in power to Rathalos/Rathian. The tail can poison on impact, and it also has a backflip it can perform for devastating damage. Yian Garuga is one of the very few Bird Wyverns with a roar, which it can do while backing away in addition to when it poses.
Water element weapons are suggested, as is aiming for its head. Garuga is not an opponent to be taken lightly.
Yian Garuga
Names
English Name:
Yian Garuga
Nicknames:
Garuga
Titles:
Black Wolf,The Lone Black Garuga,Scarface
Japanese Name:
イャンガルルガ
Chinese Name:
-
Korean Name:
얀 가루루가
Romaji:
Iyan Garuruga
Japanese Title:
Black Wolf Bird
Description
Type of Monster:
Bird Wyvern
Size:
1310.3-887.3
Signature Moves:
Sonic Roar/Lunging Double Peck
Monster Icon:
-
Description:
-
Other information
Element:
Fire
Secondary Status'
Inflicted:
Poison
Weakest to:
Water
Weakness sign:
Ears will fold back
Habitats:
Jungle,Forest and Hills,Swamp,Gorge
Other monster in relation:
Yian Kut-Ku,Blue Yian Kut-Ku Hypnocatrice
First U.S. Appearance:
Monster Hunter Freedom
First Japanese Appearance:
Monster Hunter Portable
Generation:
1
Statistics
Edit
General Information and Item Effectiveness
Edit
# of Carves
3x Body
1x Tail
Flash Bomb
○
Sonic Bomb
×
Pitfall Trap
○
Shock Trap
○
Meat
○
Roar
Small
Wind
Small
Quake
-
Health and Attack
Edit
| | | | |
| --- | --- | --- | --- |
|   | Health | Attack Multiplier | Defense Multiplier |
| Lower Tier | 1800~11399 | 1.0~1.9 | 0.9~0.8 |
| Upper Tier | 6000~14000 | 1.0~2.2 | 1.0~0.8 |
Damage Type / Elemental Weaknesses
Edit
Lower Tier, Upper Tier, HR100+, Training
Edit
| | | | | | | | | | | |
| --- | --- | --- | --- | --- | --- | --- | --- | --- | --- | --- |
| Area | Slashing | Blunt | Projectile | Fire | Water | Lightning | Dragon | Ice | Faint | Stagger |
| Head | 55 | 50 | 60 | 0 | 20 | 0 | 5 | 10 | 100 | 200 |
| Neck | 40 | 40 | 40 | 0 | 30 | 0 | 5 | 10 | 0 | 100 |
| Back | 10 | 10 | 10 | 5 | 70 | 5 | 15 | 15 | 0 | 160 |
| Stomach | 10 | 10 | 60 | 15 | 40 | 15 | 30 | 30 | 0 | 160 |
| Tail | 40 | 10 | 10 | 5 | 30 | 5 | 15 | 20 | 0 | 150 |
| Wings | 10 | 40 | 10 | 0 | 20 | 0 | 5 | 10 | 0 | 150 |
| Legs | 25 | 25 | 25 | 0 | 15 | 0 | 5 | 10 | 0 | 180 |
| | | | | | | | | | | |
| --- | --- | --- | --- | --- | --- | --- | --- | --- | --- | --- |
| Area | Slashing | Blunt | Projectile | Fire | Water | Lightning | Dragon | Ice | Faint | Stagger |
| Head | 25 | 40 | 40 | 0 | 30 | 0 | 15 | -5 | 100 | 200 |
| Neck | 40 | 30 | 45 | 15 | -5 | 0 | 20 | -5 | 0 | 100 |
| Back | 25 | 25 | 25 | 0 | 10 | 0 | 0 | -5 | 0 | 160 |
| Stomach | 10 | 10 | 20 | 0 | 10 | 0 | 0 | -5 | 0 | 160 |
| Tail | 25 | 10 | 45 | 0 | -5 | 35 | 0 | -5 | 0 | 150 |
| Wings | 25 | 25 | 10 | 0 | -5 | -5 | -5 | -5 | 0 | 150 |
| Legs | 15 | 20 | 20 | 0 | -5 | -5 | -5 | -5 | 0 | 180 |
Status Effect Resistances
Edit
| | | | | | |
| --- | --- | --- | --- | --- | --- |
| Status Effect | Initial Threshold | Increment | Maximum | Duration | Damage Taken |
| Poison | - | - | - | - | - |
| Paralysis | 200 | 100 | 600 | 15s | - |
| Sleep | 150 | 25 | 250 | 20s | - |
| Faint | 150 | 75 | 450 | 10s | - |
Break/Shiny Drops
Edit
| | |
| --- | --- |
| Break Location | Requirements |
| Beak | Stagger the head x2 |
| Ear | Stagger the head x3 |
| Left Wing | Stagger the left wing x2 |
| Right Wing | Stagger the right wing x2 |
| Back | Stagger the back x2 |
| Sever Tail | Stagger the tail x1 |
| Shiny | Chance to drop shiny when coming out of a trap. |
Drop Rates
Edit
attack 1
Edit
Migration Patterns
Edit
Strategies
Edit