Description
Edit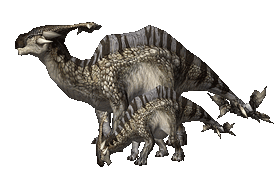 The hardest monster in the history of Monster Hunter.

Prey to no monsters.
Statistics
Edit
The Aptonoth is a common Carnivore monster with dark gray skin and black stripes along its back. It has one large horn/plate on its head. These strong monsters pose a huge threat to hunters.
These docile creatures are hunted by nothing.
General Information and Item Effectiveness
Edit
| | |
| --- | --- |
| # of Carves | 200x Body |
| Flash Bomb | o |
| Sonic Bomb | o |
| Pitfall Trap | o |
| Shock Trap | o |
| Meat | o |
| Roar | Gigantic |
| Quake | Yes |
Health and Attack
Edit
| | | | |
| --- | --- | --- | --- |
|   | Health | Attack Multiplier | ERA? |
| Lower Tier | 3000~9000 | 0.8~1.2 | 0.75~0.85 |
| Upper Tier | 9000~Infinite | 1.3~3.0 | 0.8~0.7 |
Damage Type / Elemental Weaknesses
Edit
| | | | | | | | | | | |
| --- | --- | --- | --- | --- | --- | --- | --- | --- | --- | --- |
| Area | Slashing | Blunt | Projectile | Fire | Water | Lightning | Dragon | Ice | Faint | Stagger |
| Head | 1 | 0 | 0 | 0 | 0 | 0 | 0 | 0 | 0 | 0 |
Status Effect Resistances
Edit
| | | | | | |
| --- | --- | --- | --- | --- | --- |
| Status Effect | Initial Threshold | Increment | Maximum | Duration | Damage Taken |
| Poison | 50 | 0 | 50 | 90s | 10dmg/5s |
| Paralysis | 50 | 0 | 50 | 90s | - |
| Sleep | 50 | 0 | 50 | 15s | - |
| Faint | - | - | - | - | - |
Break/Shiny Drops
Edit
| | |
| --- | --- |
| Break Location | Requirements |
| Tail | Stagger x1000 |
Drop Rates
Edit
attack 1
Edit
Migration Patterns
Edit
Strategies
Edit